I'm in Byron Bay with my friends from Sydney, staying at a backpacker resort.
Me and my friend B-Mac met a girl while we were cooking, and started chatting with her. She was a backpacker from Britain, leaving in 6 hours. She gave us some of the food she couldn't take with her; she was a bit nervous to be meeting new guys but overall it was a warm vibe.
She had the hottest body, really tanned from being on holiday, and a firm, delcious ass hugged by athletic pants like these ones:
This is just an example from google images, finding this picture took hours of 'research'. I hate my job.
When we shook hands I did an awkward handshake that lasted too long and said "It feels kind of good though doesn't it". She brushed this off but I knew it had the impact of creating sexual tension between us.
A while later she asked us what we were doing in Byron Bay and I said "Hitting on cute British girls", deadpan, while giving her flirty sexy eyes. She muttered something and looked at the ground, giggling slightly. I had made my intentions clear, and she had registered them.
It also said a lot about my frame and beliefs about women (I'm open and honest about my desire, I'm no judgemental, I'm a confident lover).
We agreed to go on a bush survival tour run by the resort, which was due to start in 15 minutes. Me and my friend had to go back to our room to get shoes, and she agreed to come with us.
Once there, the energy got very flirty, because I chose to escalate it. She was very relaxed in our room, sitting down on the bed and leaving all her stuff there for her to pick up after the walk.
She asked our names and I said we should just call each other by our cities because it would be easier. She said she was from Yorkshire and I said to pick a sexier name, which we discussed for a while flirtatiously, while my friend got ready for the walk.
"How long until the walk starts?" she asked.
"Five minutes…maybe we should just stay here and have a threesome instead…" I replied.
"Yeah!" she said, half joking with a touch of excitement.
We shook hands again for some reason and I didn't let go. "How long are we going to do this for?" she asked hesitantly.
"Until it gets awkward. But it never gets awkward for me…"
After 20 seconds of holding hands I told her she should hold my friends hand too, which she did. She was holding both our hands and I said "We can be called the threesome club" and she laughed.
We all put our hands together like sports teams do and I said "to the threesome club!"
Here is the safest threesome pic I'm allowed to post: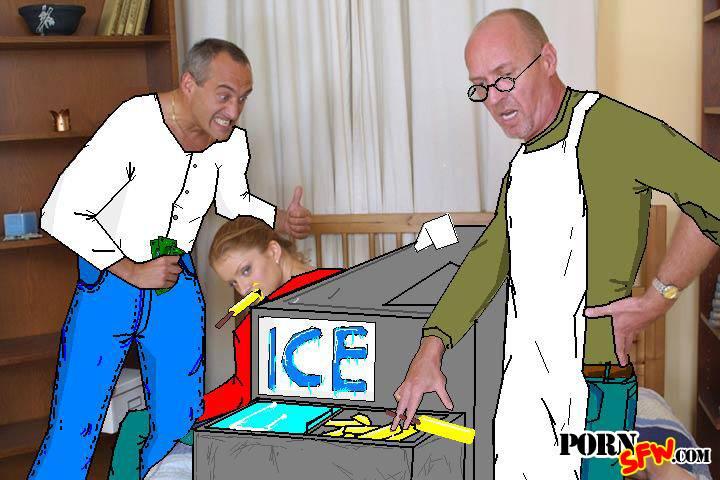 We all walked towards the door, and I said "let's do a threesome hug now" and she hugged me while my friend hugged her from behind. I had a raging boner and she could feel it. We held this hug for 10-15 seconds, and I said 'This is weird…but it feels good…'and she agreed.
The tension was there, this was the moment, but I gambled on us being able to do it when we returned to the room after the walk, and said "Let's go on this walk".
As we walked out of the room I grabbed her firm ass and she flicked her hair and shot me a seductive glance: she was horny and she wanted me to know it.
The bushwalk guide gave us war paint to put on our bodies and she stuck out her inner arm for me to paint her. I put on the paint on her arm and sensually stroked her, and she grinned.
The bushwalk guide was really sleazy, I think he imagines that one day all the girls in the backpacking resort will fall for him and a scene like this will transpire: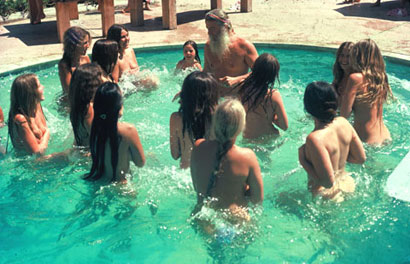 The sexual charge between us was even stronger because it was our little secret. The bushman was then explaining how to make some sort of berry powder: "take the berries and mash them up…pound them, pounding, pounding, pounding" he repeated while slamming his fist into his palm. She giggled and I shot her a knowing look. "I have a dirty mind" she whispered, her face bursting with sexual excitement.
As the walk went on the tension between us drained away, and when we finally got back to the room, our other friend was in there, sick in bed!
Our logistics ruined, I suggested we go on a bushwalk, so me, B-Mac and the horny English girl set off into the dark woods.
The tension was gone and I could feel it, but it wasnt going to stop me from escalating. I did my best to salvage the vibe we had built before by taking sexy photos, hugging her, flirting, but her guard was up now. She kept difussing the tension and I could feel the moment had passed.
I walked back to my room, deflated and regretting all the sexual energy we never got to release.
She went to her room to pack. Later I was writing this on my phone alone in the kitchen, and she came to say goodbye. She had a distant look in her eyes, still trying to process what almost happened, and it was a strange goodbye as her bus was leaving.
B-Mac was unphased, largely because he felt like it was never going to happen in the first place. In his reality, he hadn't lost anything because there wasn't anything there to begin with.
But it was painful for me, because we had created such a strong sexual spark, and Rapid Escalation is such a huge turn on for me. I love the smashing of social and sexual paradigms that come with it, just two people (three in this case) throwing off all inhibitions and socio-sexual condition and connecting on an intense core and primal level.
In this sense rapid escalation is a spiritual practice for me, a peak experience of exploring the universe, my place in it and how I relate to other people's energy fields, using sex as a medium to explore the nature of reality.
This is why it was so painful to miss this encounter. I don't mind being rejected when I put myself out there, but I hate the feeling that I didn't give something my best shot.
In this case I should have just thrown caution to the wind and pushed for a spitroast threesome right when it was there. If she had rejected me at this point I would have felt great, because showing my intent and escalating solidify my identify regardless of whether I get rejected or not.
I also felt bad because it was my responsibility to escalate this, and in a sense it's my fault that she missed out on what would have been a very exciting sexual experience!
Comments Closed